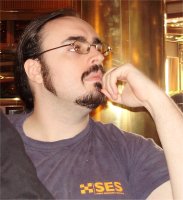 Posted by: Michael Danton
2008-03-29 06:50:25
This was a great poem in all respects, it had a good flow, use of language and description, apart from one line

"Don't what I ever did wrong,"

I think you've done an amazing job with it. Just one problem though. What was it about? I've been through it a couple of times and I still can't get through the bark, that is if it was a tree at all and not another metaphor... they were metaphors right... Like I said in my heading, I'm completely lost in the woods on this one.

If perhaps you were to make things a bit less vague while still leaving the language open to interpretation, I think you could have something very special here... Then again, perhaps I'm missing the point of poetry in the first place.

Excellent.
M.