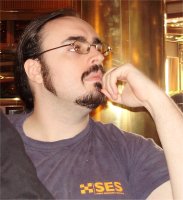 Posted by: Michael Danton
2008-10-07 20:42:58
Is it actually melting, or perhaps it's being consumed?
Perhaps the passing day is a metaphor for time and we are the icecream? Perhaps the things we enjoy are doing us harm? Perhaps an absence of human or hand-- disposes a common dessert to a place of icons and cosmic truths.

Or...Perhaps it's just an icecream... melting in the sun... and we've all too busy searching for reason to enjoy it before it becomes a soggy cone.

Blessed be the Cheesemakers! (and producers of other dairy products)
M.