Posted by: Tri-Nitro-Toluene
2007-04-04 05:11:56
What exactly was that about?
Well...just exactly what was that about?

I gained the impression that the woman in the poem was being held captive by the blossom, and yet was using it as bait so someone could then save her.

This poem really does border onto the surreal, though that isn't a bad thing as I enjoyed reading it, I'm just slightly bemused as to the meaning behind it.

There were a few instances where I thought the rhythm was a bit off, but that's only if I get really nit picky and pedantic with it.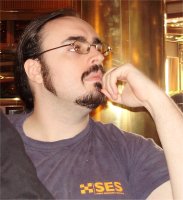 Posted by: Michael Danton
2007-03-16 11:09:39
I'm a big fan of pretty words, clever contraptions and the occasional folly, but I could never quite grasp abstracts.

Let's get this straight... a young lady throws her "flower" to a man on the end of a "pole" they struggle for a while and he makes a mess of her "flower". Then they both breathe a sigh of relief and carry on as if nothing happens...

Doesn't he even buy her dinner first? Or does she have a banana in her tacklebox?

M.

Posted by: KrazyKracker
2007-03-13 10:47:25
that was a very good poem. it kept my attention very well. i liked how the blosom was evil. (i think it was maybe i misunderstood) i didnt fully understand the ending but i got the jist of it. the town turning to rust was very creative and i liked how there was dialogue, not many poems have any. but i also thought it ended rather abruptly. but good work