Rating:
72.07
Perspectives: 5
Votes: 33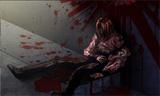 2007-05-01 14:30:35
Style: Comedy
Number of pages: 3
You must be logged in to start kibosh
Perspective Reward Points: 49
Carousel Reward Points: 0
Log Line:
When two nerds get together.
Production Notes:
I love this story so much when I made it. To my friends in my programming course they loved it and it will always be one of my favourites. One day I may make a flash movie out of this. But it isn't as good as my "surprise sex" story which I believe is possible the most well written story I've ever written.