Rating:
76.20
Perspectives: 3
Votes: 35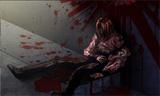 2007-04-11 10:36:36
Style: Romance
Number of pages: 3
You must be logged in to start kibosh
Perspective Reward Points: 40
Carousel Reward Points: 0
Log Line:
A fobidden love which dares not speak. One loves one as a friend the other desires.
Production Notes:
WRITTEN FOR THE COMPETITION

Not one of my best stories as I had to recycle an existing story and make it a love story.

I didn't enjoy writing this but maybe you'll enjoy reading it.
Past Revisions: