Rating:
81.29
Perspectives: 2
Votes: 14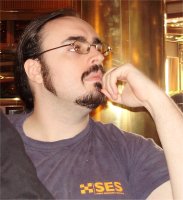 2007-07-11 15:04:39
Style: Horror/Crime
Number of pages: 5
You must be logged in to start kibosh
Perspective Reward Points: 220
Carousel Reward Points: 260
Log Line:
A carrion bird, I tread the path of death
A reaper understated
I left behind my coat of white
My cruelty unabated.
Production Notes:
The inspiration for this poem came about so suddenly it was almost an unconscious thought, as I set aside my current projects and started writing these stanzas like a man possessed.
I wrote four pages of poetry in under 2 hours which is quite unbeliveable for me even now as I'm usually a very laboured and considerate writer.

I can possibly attribute this poem to a brief period in my life when I was a consultant of sorts for another website where I actually wrote similar captions for "Mortography" (I just made that word up for lack of a better one)

Granted the poem wasn't as you see now, and only a few stanzas remain from the original through a series of revisions, cutting away the dead weight and wasted space. No doubt an endeavor that the good people at Fourth Perspective will assist me with.

Enjoy this poem and as a courtesy to others, please don't elaborate on the ending.

Thankyou,
M.