Rating:
86.23
Perspectives: 4
Votes: 13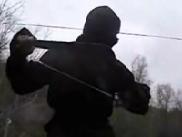 2007-05-16 21:01:22
Style: Drama/True Story
Number of pages: 2

You must be logged in to start kibosh
Perspective Reward Points: 89
Carousel Reward Points: 50
Log Line:
This is from the point of veiw of somone on their deathbed, telling surrounding loved ones not to mourn her death, but be thankful for their life.
Production Notes:
This is another poem that was a song, I just changed up the lyrics and made it shorter.
This is dedicated to a few lost friends who knew about their death before it happened (Damned Sicknesses)
I lost them this past year <3 Lost many people this past year.