Rating:
87.19
Perspectives: 12
Votes: 52
2007-03-09 11:10:22
Style: Comedy/Children/Family
Number of pages: 4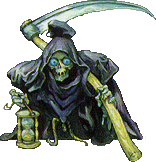 You must be logged in to start kibosh
Perspective Reward Points: 10
Carousel Reward Points: 0
Log Line:
Ever had a near death experience and wondered what's at the end of the tunnel with the white light? Want to find out?
Production Notes:
Originally an attempt to put a twist on the rather cliche persona of Death as the cowled figure with a scythe, turned into a short, somewhat comedic, story whcih the people who have read it seemed to like.