Rating:
80.67
Perspectives: 4
Votes: 30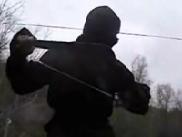 2007-06-07 10:15:47
Style: Horror/Thriller
Number of pages: 19

You must be logged in to start kibosh
Perspective Reward Points: 382
Carousel Reward Points: 50
Log Line:
A young man awakens in a hallway with a gash in the back of his head, met only by perpetual darkness.
Production Notes:
This is my first time writing something in AWHILE, so constructive criticism is always welcome.

This was written over a series of nights using a bit of a weird writing style of mine.